You are here
Eiffel Scolarship of Excellence
The call for student's application is closed for now.
It will reopen next year (early October) for the 2024-2025 application round.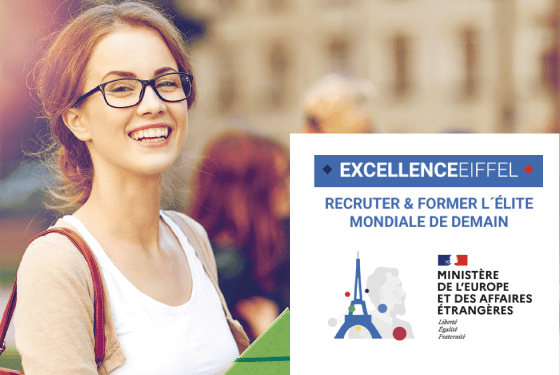 Bordeaux INP welcomes Eiffel applications from Master-level / PhD students to join its schools and engineering programmes :
Aeronautical Maintenance & Industrial Performance
Biotechnology
Cognitive sciences
Electronics, Computer Science, Telecommunications, Mathematics & Mechanics
Physics, Chemistry & Food Sciences
Water Resources, Environmental Management & Geological Resources
Application are currently open until November 25, 2022
Calendar
October 2022
Launching of the call for student applications. For more information, please check the Etudes en France website dedicated to the Eiffel Scolarship of Excellence.
Before Novembre 25, 2022
Applications must be submitted online through this form. The required supporting documents and the cases of inegibility are listed below.
Early December 2022
Reviewing of the submitted applications by Bordeaux INP's International Comittee
Before December 16, 2022
Candidated are informed wether Bordeaux INP has accepted or not their application. Simultaneously, final applications will be prepared.
Before January 20, 2023
Bordeaux INP will send the selected applications to Etudes en France.
Required supporting documents
A resume written in french or in english with information about academic performances (2 pages)
All useful information regarding the degree (dates) and about grading, prizes... Such dates should be certfied by the university/professors
A description of the professional project in french or in english which may be substantiated by the advice of external experts from the industry (2 pages)
Copy of the document of education with the list of studied courses and academic records from your university (3 last years)
Copy of the last degree obtained
Copy of the national passport showing first name and last name, date of birth, number
For non French speakers, a copy of an official diploma in french (DELF, DALF or TCF)
The expected training programme and school
ALL DOCUMENTS ARE MANDATORY
1 PDF file per document
Any application that is incomplete or submitted after November 25, 2022 will be rejected.
Candidates born before March 1997
Bi-national candidates with french citizenship
Foreign students recipients of french government scholarships
Students who were not selected following an earlier application
Candidates who already benefited from an Eiffel grant
Only applications submitted by Bordeaux INP are admissible
Off-site training courses (relocated abroad)
Candidates put forward by several french universities
Apprenticeship or professionalisation contracts
The Eiffel grant can not be combined with any other grant from the french government, Erasmus + or AUF.
No change in the programme fixed is allowed
Uncomplete applications